RuralNet (Digital Gangetic Plains: DGP) 802.11-based Low-Cost Networking for Rural India
The past decade has seen communication revolution in the form of cellular telephony as well as the Internet, but much of it has been restricted to the developed world and metro pockets in the developing world. While the use of cellular technologies can cut down on the time to deploy access networks, the cost economics make this non-viable in growing telecom economies. In the RuralNet (Digital Gangetic Plains: DGP) project, we are exploring the use of 802.11 as a long-distance access technology. 802.11 is currently cost-priced due to competitive mass production and hence is attractive for low cost and rapid deployment in rural areas.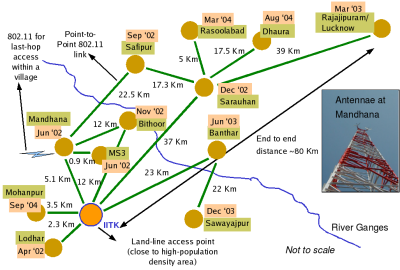 We have built an extensive testbed in a rural setting consisting of multi-hop directional 802.11 links, the testbed spanning up to 80km at its longest. To our knowledge such a long-distance, multi-hop testbed based on 802.11 is unique thus far. While 802.11 is attractive in terms of cost economics, it was inherently designed for indoor use. Our novel use of the technology for outdoor, long-distance access links presents several challenges. Our experience with the testbed has brought several research as well as operational issues to the fore.
We are focusing on the following technical issues in the project:
Network planning and deployment
MAC protocols
Network management and operations
Power savings, and
Applications and services
See the publication list below to learn how we have addressed the above issues.
The old DGP website (not maintained) is here.
---
People
Current:

Bhaskaran Raman, Assistant Professor, Department of CSE, IIT Kanpur
Kameswari Chebrolu, Assistant Professor, Department of EE, IIT Kanpur
Sayandeep Sen, Research Associate, Department of CSE, IIT Kanpur [sdsen AT iitk DOT ac DOT in]

Past:

Pravin Bhagwat, CTO, Airtight Networks
Dheeraj Sanghi, Professor, Department of CSE, IIT Kanpur
Manikantah Kodali, Master's Graduate, Department of CSE, IIT Kanpur
Pavan Kumar, Master's Graduate, Department of CSE, IIT Kanpur
Prashant Sharma, Master's Graduate, Department of CSE, IIT Kanpur
Venkata Rao Chimata, Master's Graduate, Department of CSE, IIT Kanpur
Sreekanth Garigala, Master's Graduate, Department of CSE, IIT Kanpur
Imtiaz Ur Rahaman, Master's Graduate, Department of CSE, IIT Kanpur
Rajesh Gandhi, Master's Graduate, Department of EE, IIT Kanpur
---
Publications and Reports
NEW ``Long Distance Wireless Mesh Network Planning: Problem Formulation and Solution'', Sayandeep Sen and Bhaskaran Raman, Accepted for publication, The 16th Annual Interntional World Wide Web Conference (WWW 2007), May 2007, Banff, Canada. [Acceptance rate: 14.7%] Paper: [pdf]
NEW ``Experiences in using WiFi for Rural Internet in India'', Bhaskaran Raman and Kameswari Chebrolu, Accepted for publication, IEEE Communications Magazine, Jan 2007, Special Issue on New Directions In Networking Technologies In Emerging Economies. Paper: [pdf] Presentation: [pdf]
NEW ``Long-Distance 802.11b Links: Performance Measurements and Experience'', Kameswari Chebrolu, Bhaskaran Raman, and Sayandeep Sen, 12th Annual International Conference on Mobile Computing and Networking (MOBICOM), Sep 2006, Los Angeles, USA. [Acceptance rate: 11.7%]. Paper: [pdf] Presentation: [pdf]
``Rural Telephony: A Socio-Economic Case Study'', Sayandeep Sen, Sukant Kole, and Bhaskaran Raman, International Conference on Information and Communication Technologies and Development (ICTD-2006), May 2006, U.C.Berkeley. Paper: [pdf] Poster: [pdf]
``Channel Allocation in 802.11-based Mesh Networks'', Bhaskaran Raman, The 25th Annual Conference on Computer Communications (IEEE INFOCOM), Barcelona, Spain, April 2006. [Acceptance rate: 18%]. Paper: [pdf] Presentation: [pdf]
``Feasibility Study of Spatial Reuse in an 802.11 Access Network'', A. R. Harish, Sreekanth Garigala, Bhaskaran Raman, and Phalguni Gupta, XXVIII URSI General Assembly, New Delhi, India, Oct 2005. Paper: [pdf] Poster: [pdf]
``Design and Evaluation of a new MAC Protocol for Long-Distance 802.11 Mesh Networks'', Bhaskaran Raman and Kameswari Chebrolu, 11th Annual International Conference on Mobile Computing and Networking (MOBICOM), Aug/Sep 2005, Cologne, Germany. [Acceptance rate: 10.3%]. Paper: [pdf] Conference presentation: [pdf] More detailed presentation: [pdf]
``Digital Gangetic Plains: 802.11-based Low-Cost Networking for Rural Areas'', (One page status report), Edited by Bhaskaran Raman, Dec 2004. Paper: [pdf]
``Revisiting MAC Design for an 802.11-based Mesh Network'', Bhaskaran Raman and Kameswari Chebrolu, Third Workshop on Hot Topics in Networks (HotNets-III), 15-16 Nov 2004, San Diego, CA, USA. [Acceptance rate: 19.7%]. Paper: [pdf] Presentation: [pdf]
``Turning 802.11 Inside-Out'', Pravin Bhagwat, Bhaskaran Raman, and Dheeraj Sanghi, ACM SIGCOMM Computer Communication Review, Vol. 34, No: 1, pp. 33-38, Jan 2004. (Also appears in HotNets-II proceedings)
``Turning 802.11 Inside-Out'', Pravin Bhagwat, Bhaskaran Raman, and Dheeraj Sanghi, Second Workshop on Hot Topics in Networks (HotNets-II), 20-21 Nov 2003, Cambridge, MA, USA. [Acceptance rate: 19.3%] (Also appears in CCR). Paper: [pdf] Presentation: [pdf]
``Digital Gangetic Plains: 802.11-based Low-Cost Networking for Rural Areas, 2001-2004: A Report'', The DGP Media Labs Asia Team, Edited by Bhaskaran Raman, July 2004. Report: [pdf]
---
Presentations
---
Software Release
"TENS: The Enhanced Network Simulator", Ashwini, Sabyasachi Roy, Bhaskaran Raman, and Dheeraj Sanghi [click here]
Some information on linux installation on iPAQ, Abhinav Pathak and Abhimanyu Shekawat [click here]
---
Theses
Master's theses:
BTech Projects:
---
Links
Soekris Throughput Performance Measurements [click here]
ITU Statistics Relevant to DGP [click here]
---
Last modified: Sat Mar 24 00:34:29 IST 2007