ranikhet tour
. Riders:
* Binoy Raveendran on his BSA ACT-110 (acquired a month ago just in time for our
taj pedal yatra
),
* Joydeep Dutta on his merida 40 and
* Amit Mukerjee on a btwin sports-one.
Itinerary
: Bhimsen-Bhowali-Mukteshwar, with a side visit to Nainital.
april 22-25, 2011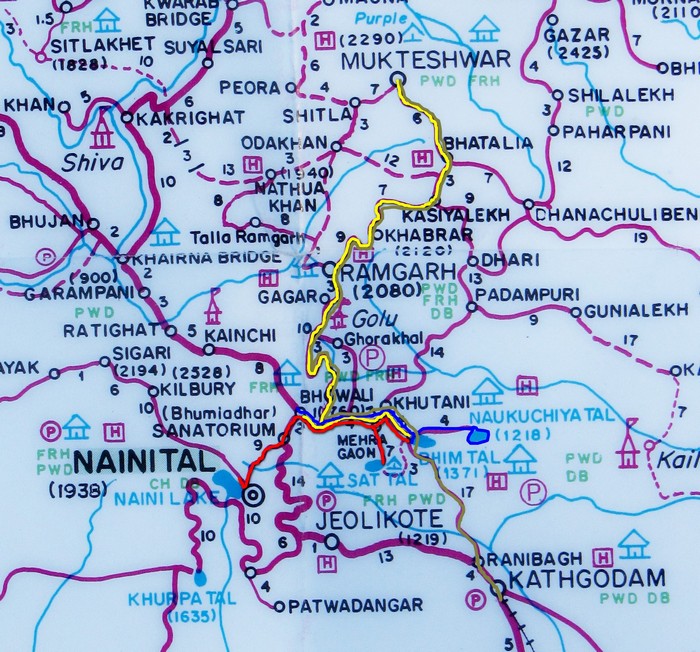 the routes. day one: acclimatization (blue). day two: nainital red. day three: mukteshwar (yellow). day four: down to kathgodam (green). map is a photo from the nest & wings map of uttarakhand.
Routes:
Click on each day's link for details of each ride.
day 4: starting back from mukteshwar to bhateliya and on to kathgodam. joydeep dutta, binoy and amit.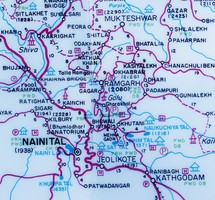 larger un-marked version of map for kathgodam mukteswar nainital area
---
amitabha mukerjee for the

bumpy trail bicyclists

. sep 2011.

feedback:

mukerjee [at] gmail

as soon as the semester ended, three bumpy trailers were off to the mountains. this trip was joydeep's inaugural himalayan trip, after he had missed out on last year's