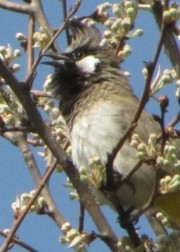 commercial
dollar dealers. clearly, there are very few bicycles in the hills. we did see three people on ordinary cycles climbing up on the back road khairna bridge to reechi, and we saw several bicyclists around ranikhet, but there were no "mountain" bicyclists. well.... all the more reason to do it!! even before we started, our trip ran into problems... for one, mohua broke her hand in a freak bicycling accident a two weeks before the trip. by then we'd planned the trip and booked the kmvn etc. but she's amazingly sporting, so she went along as audience, her right arm in a cast.
early on march 2 saumyen and mohua left for ranikhet with mohua's parents. soon after they left, joydeep, whose bp had been borderline, was told by his doc that he needed to stay under observation, and that he would have to cancel the trip. this was very unfortunate - had he told me a few hours back even, i could have driven out with saumyen. for several hours, i thought of dropping out as well, but i remembered ripu singla. after a bike ride a few days ago, he had been lamenting about having missed out on an adventure vacation. last year, ripu had gone with the adventure club on a simla to kaza pass bicycling trip, so he was a strong rider too. fortunately, after a few hectic calls to his parents, ripu managed to come on board.
so on 2nd evening, ripu and i set off for the hills, with our
bicycles
in the back of a qualis. our plan: drive through the night and hope to put in some cycling tomorrow itself...
0600-0700: initial Chaubatia climb: 12km [Ripu and Amit]
0900-1330: Chaubatia KMVN-Cantt-Somnath dwar (6km) - Golf course - Gingarikhal tea shop (+4) - Ranikhet market - handloom shawl / tweed store - kmvn (+10=20) - Chaubatia top / garden (+16) = 36km
it took us about ten hours to drive down from kanpur, via the new bareilly road from bilhaur. right after reaching at six in the morning, we unloaded the bicycles, and went out for a test ride. before we knew it we went into a military area - the guards hadn't seen too many bicyclists - and were on a long 5% gradient climbing up to chaubatia top. on the way down we stopped by the famous jhula devi temple.
Chaubatia to Ganiatola (NH 87, Ramnagar rd turnoff, 8) - Tarikhet (+4) - Sauni (+8) - Binsar temple (+4=24) - Chaubatia = 48 km
leave at 7;30. after a leisurely breakfast break at tarikhet, past sauni onto the binsar mahadev temple road.
"See - seven gears!". everywhere we went, boys came flocking to check out our bicycles.
saumyen wanted to know the hindutva brand of the binsar mahadev temple
on the way back, i stopped by at a yellow house at the village of dAwarghatti where they had some rooms for rent. this house was at the very top of the ridge, with the valley falling down below and the snowpeaks felt so near. made plans right then to spend a month here this summer, and got the phone numbers etc. here's the kind of view one gets throughout the day...
nanda ghunti, trishul, nanda devi sanctuary wall, from sauni.
later in the day we relaxed and checked out the birds in the garden of the kmvn.
this was to be our major ride of the trip. started with a big toast and boiled egg breakfast at kmvn, leave at 0820.
largely downhill to kathpuria, then the steep climb begins. first 3km is nonstop climb with grades around 1:10. after this the road is even or gentler uphill, until you cross the first ridge and then there is a steep descent of about 2km. the last 2km is also about 1:10. as you approach the top, a road to kosi goes off to the left. for most of the climb, you can see sitlakhet and also the syahi devi temple on the ridge.
Chaubatia - HN87 (5) - wrong way (downhill) for 2km (+4) - Ganiatola(+4=13) - Tarikhet(4 downhill) - Tultiikhet? - Dawarghatti (uphill) - Sauni (+8) - Binsar turn (river bridge) - Reechi (uphill, +6 =25) - Kalakhet - Jana (uphill, down starts) - Lachhina - Seema - Nawli - Haldiani - Paatli - Bhujaan (+34=59) - Khairna bridge (+3=62).
saumyen mohua and parents leave at 0630. manage to stumble out and say goodbye.
After what seems an endless climb (since I was expecting it sooner), stopped by at village of Dawarghatti-Sauni where talked about renting the rooms with Mr. Devi Ram. He shows us several rooms, all with bathrooms either two floors below or just outside. One suite belonging to his brother has a kitchen attached. I am quite confirmed I am renting a room between mid-May to mid-June.
From Sauni it is downhill 2km to the Binsar Mahadev, where we cross the (now small) river, and then the road climbs steadily to Reechi. Some small teashops on the road, with a semi-pucca road going off to the left, is the turnoff for the road to Khairna. Some young men tell us it will all be downhill from now, but the road is still climbing.
less than 1km up this road we encounter a farm where some upscale cars are parked. It is a lovely location with valleys on both sides and a lovely himalayan view to the N. We talk to some urban people who are excavating a water tank - they tell us that there may be some huts at the farm, but the munshi says all the rooms are used up by horses and farm workers. The munshi suggests there may be rooms to rent in the village near the temple atop the even higher hill next (it is even more "swarg"). we see the steep stairs going to this temple, but decide not to venture up rightaway.
in the village of lachhina, met a young man and an elderly educated man. they talked of how they used to have to go to school by climbing down their hill, crossing the stream, and then going up the hill on the other side to reach tarikhet. this road was laid out 26-28 years back (1982), and stabilized and surfaced with tar only in 2005. when the river (coming from binsar mahadev temple) is in spate, they can cross at a bridge a little upstream. a temple can be seen opposite, to go there, you can climb down the slope and climb up the next, or else come down from tarikhet by a foot trail- no - bicycles won't go on these trails.
at seema, we stop for a banana break at a shop with grand views. the youth managing the shop studies medicine at dehradun.
Practicalities
Accommodation
We stayed at KMVN Tourist Lodge, Mall Road. There are three KMVN facilities in Ranikhet. This is the highest and offers good view of the mountains and the kitchen is good. However, the hot water is flaky, and the overall management is not of the highest order.
Bicycles
Saumyen: Canondale F5
Ripu: Rockrider 5.1
Amit: Trek 3700 Other gear:
We had gotten an assize speedometer from Firefox India along with the Trek, but it was a defective piece - the magnet sensor didn't work, and we couldn't take it along. The distances are based on maps and gmap etc. No altimeter either. We did have a reasonable set of tools - allen wrenches, spanners etc. While we did take different types of tyres, touchwood we had no punctures. Getting your bicycles there
one could ride, of course. from kanpur, bareilly is 250km, with another 120km to Kathgodam, after which it's hard climbing for the last 80 odd kilometers. So that's about four days, say.
from delhi, it's about the same distance but you skirt the corbett national park, so you may be tempted to take longer. but then three days of riding in the plains with trucks and buses is no fun. so you can book your bicycles on a train, but you have to take off the pedals and turn the handlebars and pack them in a carton, and its quite a hassle getting them to book it by the same train you're going on. as a last resort, you put them on the roof of a public bus. the advantage (or hassle) of a bus or train is that you skip the plains, and after you get off at kathgodam or nainital, you can start riding the mountains right from there. nainital is pretty high (2000m), so if you are thinking of riding, that's a good place to start from... but then most of us have baggage... so, maybe you need to resort to a car. you can have a bike rack, like saumyen, and be prepared for big stares at every stop, or upto three bicycles can fit into most SUVs if you can fold a rear seat. when to go:
spring (feb-april) is probably best - tourist crowds are less, the air is bracing, and the roads aren't as busy. summer (may-june) and autumn (sept-oct) are also pleasant, though there are more tourists. not advisable during monsoons (july-august). It hasn't been snowing the last few winters, but winters are often foggy.
weather round the year: www.mustseeindia.com/Ranikhet-weather Bicycle maintenance:
There is a bicycle store at Ranikhet on Mall road. Despite the terrain, it doesn't deal in geared bikes. You better carry basic repair and tune-up tools and operate on a do-it-yourself mode.
The peaks of the Nanda Devi range
The peaks you see to the North from most of Kumaon are all in or near the Nanda Devi Sanctuary. The most prominent structure is often the Trisul massif with its three prominent peaks (Trisul I, 7120 mtrs; II, 6690m; III, 6008m). Trisul I was the first peak above 7000m to be climbed (1907); it was also the first trial of oxygen-aided climbing. The southern wall of the Nanda Devi sanctuary (stretching to the right of Trishul) includes Mrigthuni 6855m (second summit from left) and Maiktoli 6803m (rightmost). Beyond these, to the right you may see the highest peak in this region, Nanda Devi 7819m, which rises as the square-top peak to the right on the view from day 4. It is the 23d highest summit in the world, and the only one entirely in India. It is often obscured. Further right is Panwali Dwar 6663m. The peak to the east of Trishul is the Nanda Ghunti*, 6309m, and to the west sometimes you may see Nanda Kot*, 6861m, or Nanda Khat 6611m. Other prominent peaks on or near the Northern sanctuary are Hardeol* 7151m, Dunagiri 7068m; Changabang 6864m; Kalanka 6931m (not seen from Ranikhet-Kausani-Almora region). (* asterisked peaks are not on the sanctuary wall per se)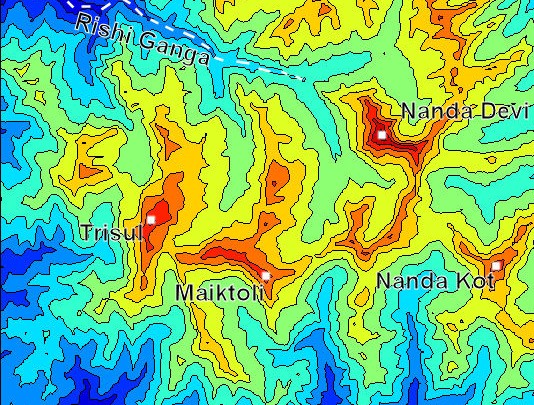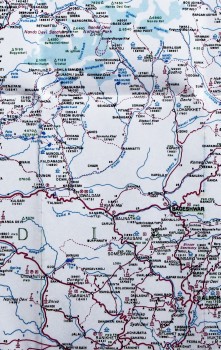 The topographic map of the Nanda Devi Sanctuary southern wall (adapted from

wikipedia

image by Spireguy). The Ranikhet-Almora-Kausani-Baijnath-Bageshwar region lies more or less directly south of the Nanda Devi sanctuary (click to expand either map).

Further northwest, near the Garhwal-Tibet border, the Kamet peak (7756m) is the 29th highest independent peak. To the East, Gurla Mandhata (7694m), in Tibet near Nepal-Kumaon border, is the 34th highest peak. None can be seen from the Ranikhet-Almora region. These, along with Nanda Devi, are the three top 100 peaks in the Uttarakhand Himalayas. Nanda Devi is actually a twin peak. About 2km along the ridge is Nanda Devi East, at 7434m, but it has a prominence
of 260m and is not considered an independent peak.
Topographical prominence
measures the height of the peak's summit above the lowest contour line encircling it and no higher peak; in the Himalayas, about 500m (7%) is used for a peak to be considered a separate summit. Other prominent victims of summit-hood in this respect include Nuptse, a ridge near Everest, a little higher than Nanda Devi. The Nanda Devi sanctuary has a fabled status among mountaineers. For many decades (until 1808), Nanda Devi was considered the highest mountain in the world, yet it's base was completely insulated by this ring of peaks. The only opening was the steep and narrow canyon of the Rishi gorge, which was considered an "admission test" more difficult than journeying to the North Pole. Access to the sanctuary itself was not possible in fifty years of attempts. Eventually in 1934, Eric Shipton and four others managed to traverse the gorge into the sanctuary, and went on to climb Maiktoli. Subsequently Nanda Devi was climbed in 1936 along the "Coxcomb ridge" by a lightweight team of seven mountaineers using no fixed ropes and no Sherpa support. It remained for fourteen years the highest peak climbed by man (until Annapurna I). The same route was used in the second, 1964 climb, by an Indian team led by N. Kumar. Here's a list of the peaks, with wikipedia links:

Nanda Devi: 7816m
Kamet:  7756m
Gurla Mandhata: 7694m 
Nanda Devi East: 7434m
Hardeol: 7151m
Dunagiri: 7066m
Trisul I:  7120m

Kalanka: 6931m
Changabang: 6864m
Nanda Kot: 6861m
Mrigthuni: 6855m
Maiktoli: 6803m
Nanda Khat: 6611m
Trisul II: 6690m
Panwali Dwar: 6663m
Nanda Ghunti: 6309m
Trisul III: 6008m

(Altitude measurements may vary by about 20m or more).