Taj Pedal Yatra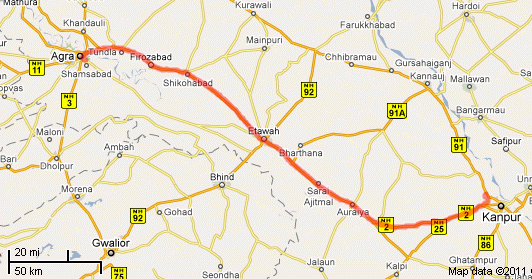 day 1: 155km to etawah. day 2: 120km to reach taj by 3pm. (click for scalable map).
19 intrepid souls started off for 270 km of bicycling over two days, ended up doing 300km - nearly twenty hours in the saddle.
day1: kanpur-etawah, 155km.
day2: etawah-agra (taj) 130km +15km to agra-ISBT.
after a reception organized by binani cement, we hastily made it to the overnight volvo bus back to Kanpur. everyone did very well, including a lot of people who had never bicycled long distances until a week ago. the tragedy was that due to a logistics problem, five people, after finishing the ride and reaching the taj well on time, landed up at the wrong gate and were not able to enter.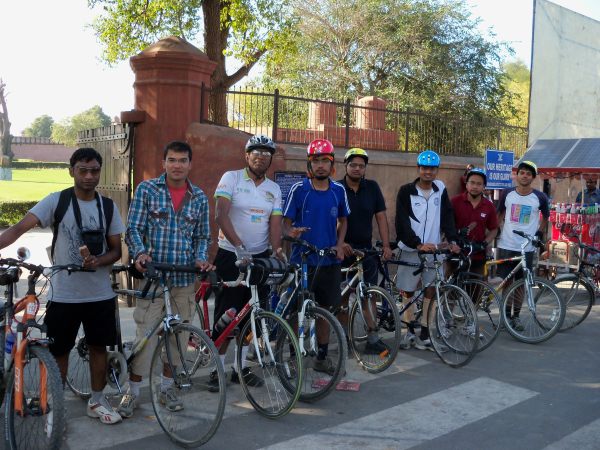 agra at last - cycles outside itimad-ud-daula. santhosh vijay amit deepak sudhansu prince sailesh mainak

The images below are from two of the the camears on the trip - the Canon SX20 - used mainly by the volunteers and the driver gaurav; and the camera carried by santhosh. For the full set of images from santhosh, see http://www.cse.iitk.ac.in/users/amit/bicycling/taj/santhosh-agra/. A few images (like sudhansu and the camel, deepak with the very small taj, sudhansu and prince at itimad-ud-daulah), etc. are from my nokia E63.
off to AgrA: day 1 (etawah)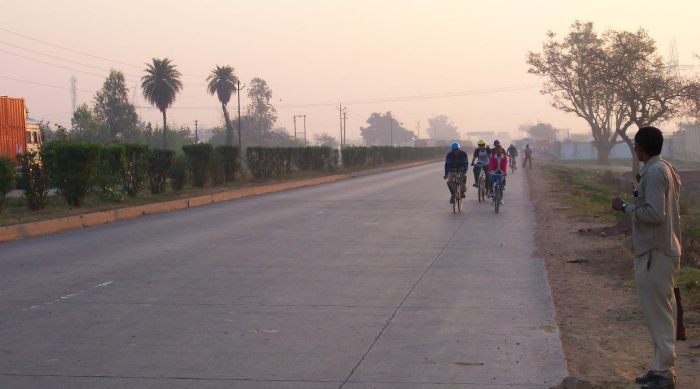 early morning pedals on the road - shail mainak ravi (photo:santhosh)

riders posing in a line at the panki bypass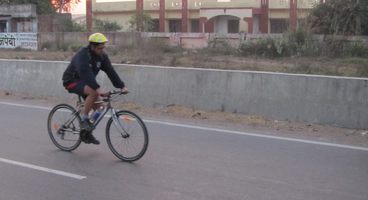 sudhansu shukla crossing bhauti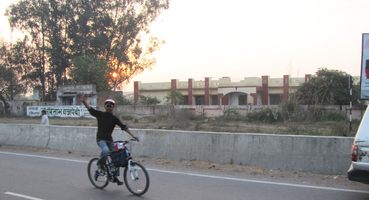 shakeel riding as dawn comes up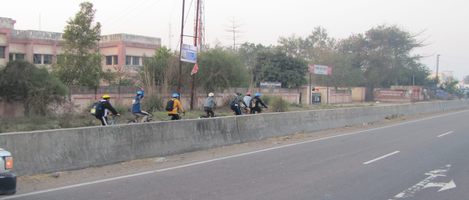 main group crossing bhauti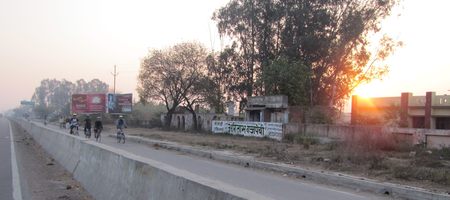 ravikiran mainak sailesh vijay - dawn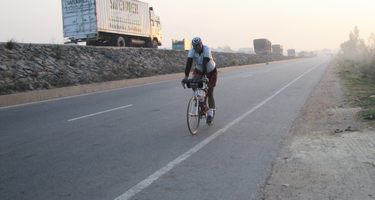 amit - near sachendi trying to catch deepak lovy. support car.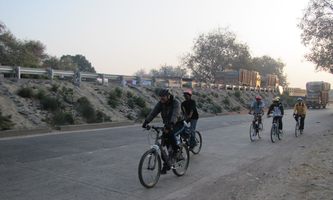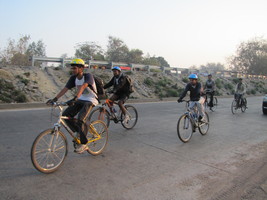 jd shakeel abhishek ripu samarjeet gaurav - sachendi mainak santosh himanshu.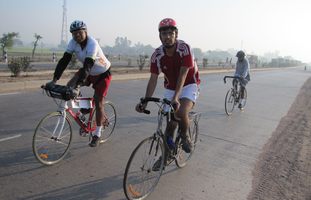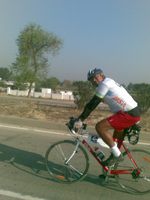 deepak amit lovy. note bumpy trails bicycles banner on amit's bike (click any image on page to zoom in).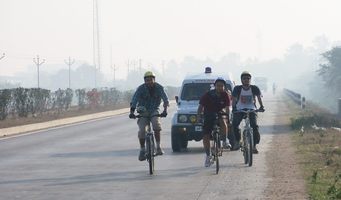 vijay sailesh mainak with police escort

the kanpur dehat district authorities had arranged for police escort to accompany us through the district. the police were unobtrusive, but quite helpful. as a neta convoy was speeding past, one constable told me that they don't provide such escort service even for "ordinary" netas!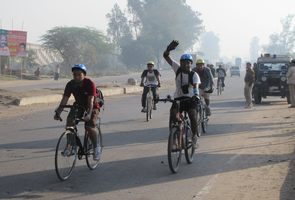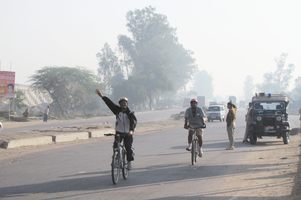 sailesh mainak santosh vijay abhishek samarjeet ripu - police jeep. ripu abhishek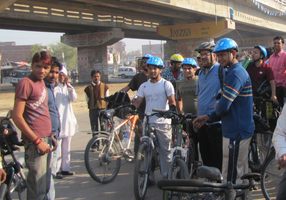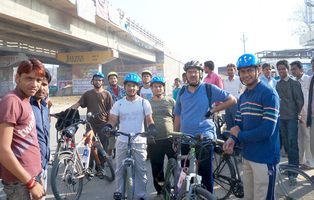 jhansi turnoff near akbarpur - ravikiran himanshu vijay gaurav mainak jd shailendra sailesh. ravi vijay himanshu mainak gaurav jd shailendra.

the crowds would materialize immediately wherever we stopped.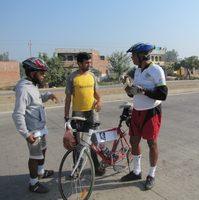 lovy shivik amit - bananas.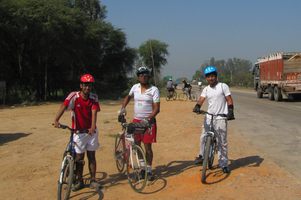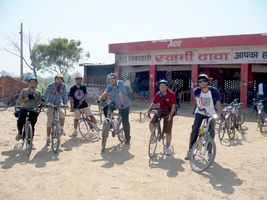 breakfast stop: deepak amit himanshu. gaurav vijay abhishek jd sailesh mainak - outside swami dhaba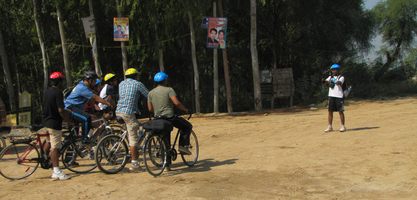 abhi jd mainak vijay gaurav - santosh photographing the picture above right.

at the breakfast stop, we ran into an airforce team of bicyclists. they were bicycling some 2400km from digaru airforce base in assam all the way to delhi. as coincidence would have it, they were doing the kanpur-agra stretch on the same days!! there were two lady officers also among the team, and they also had a long low-bed support truck with lots of supplies.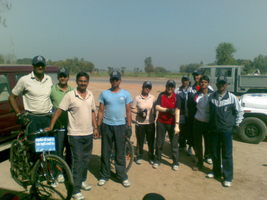 air force team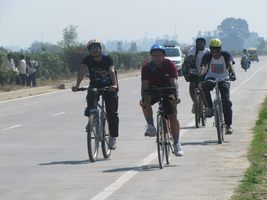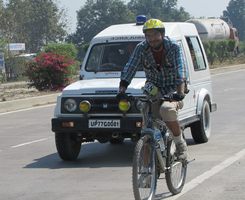 ripu sailesh santosh ripu. vijay w police escort car.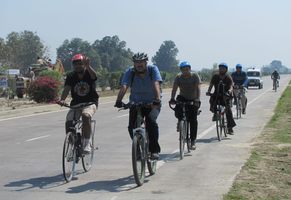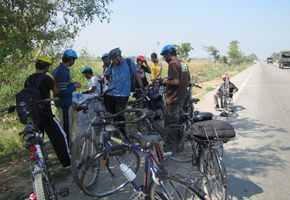 abhishek jd gaurav ravi shail vijay. roadside break while shakeel fixes a bike.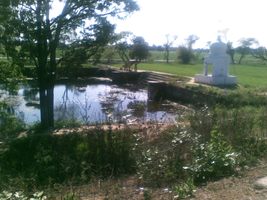 ancient talab made by mahewa kings.

while trying to make an u-turn to take the mahewa talab picture, i had a cleated fall. a passing motorcyclist told deepak who had gone ahead. another motorcyclist came back to help, and told us the story of the talab.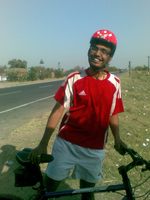 deepak with a big grin - he has just exchanged the motobecane roadie he was riding, with the schwinn frontier sport which shakeel had...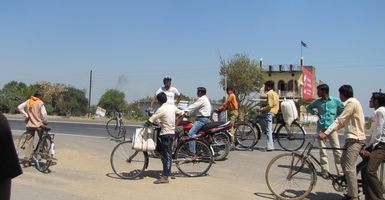 amit crowd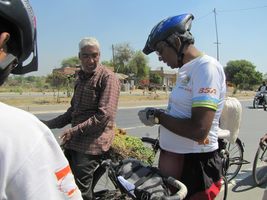 amit and lovy trying out green chanas from pods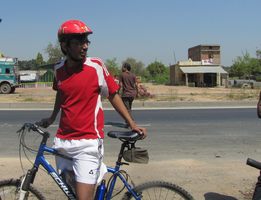 deepak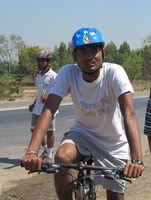 prince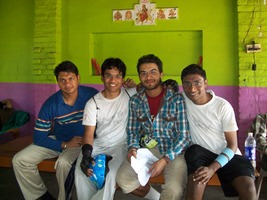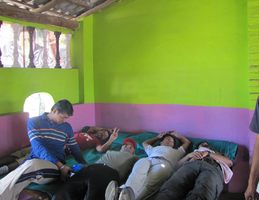 rest stop - shail himanshu vijay santhosh. all spread out - vijay shail gaurav himanshu ravi.

get a sense of the fast moving cyclists in this video shot daringly by shakeel from the roof of the moving car. sailesh ripu samarjeet himanshu mainak vijay santhosh ravi.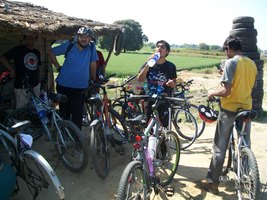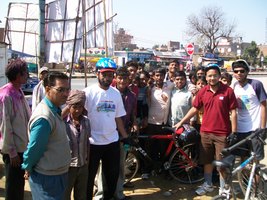 road tire shop stop abhishek jd ripu shivik. ravi sailesh mainak - shikohabad maybe.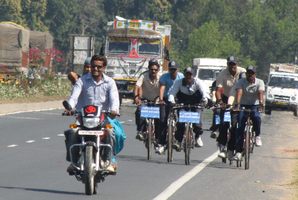 air force team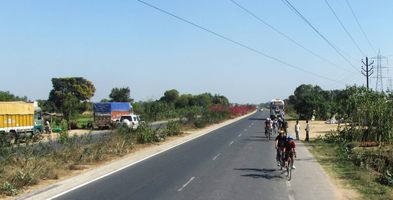 sailesh ripu plus six on road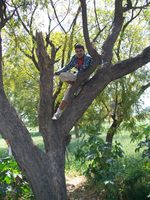 ancestral traits - vijay

that night we split up into two groups, one group staying at the rajshree, the other at gagan hotel. both hotels were nondescript, dusty indian-town accommodation. dinner was at the nanak dhaba, where the owners were extremely courteous. however, the food didn't suit many of us - perhaps the salad. also, many were up till eleven watching india lose to south africa in the world cup. i had a haircut and also took a rickshaw tour of etawah with deepak.
day 2: reaching agra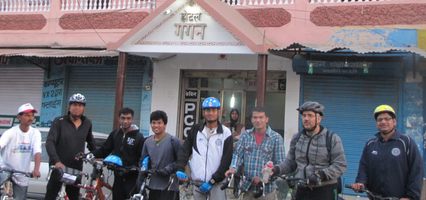 shakeel amit santosh himanshu prince vijay jd sudhanshu in front of hotel gagan.

in the morning, we were quite delayed and could start only by 7.15.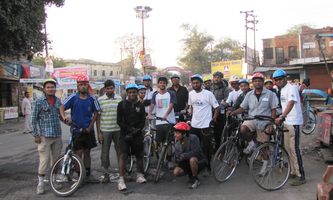 17 riders (lovy was tying a cycle to the roof; samarjeet is occluded).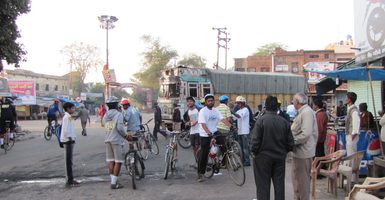 etawah start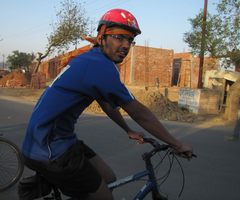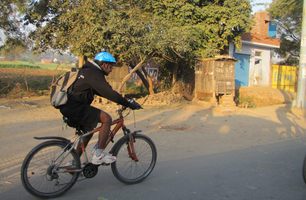 deepak. santosh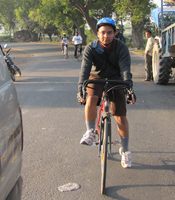 sailesh. mainak vijay himanshu ravikiran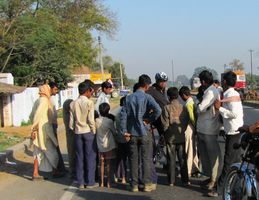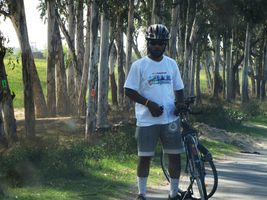 amit surrounded by crowds. lovy. we had stopped at a village past jaswantnagar to fix a puncture.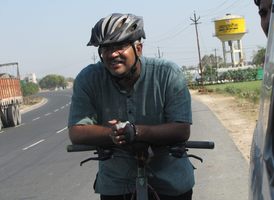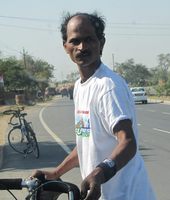 joydeep with ear-splitting grin - agra seems within reach. shakeel.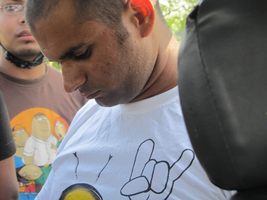 gaurav in pensive mood


a small detour to a factory making gur, guD, a sugarcane jaggery, off the road abt 40 km from etawah.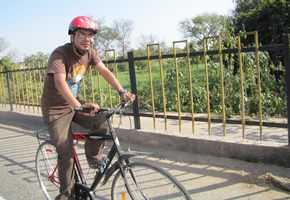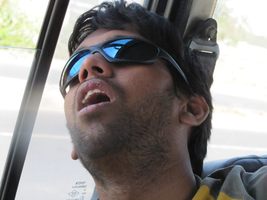 samarjeet on his way. shivik taking a quick nap in the car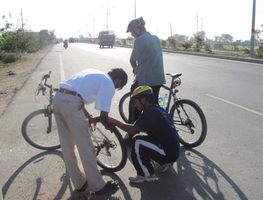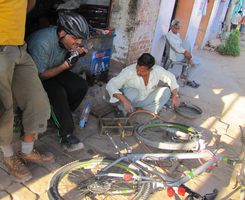 shakeel ripu joydeep. joydeep at a puncture shop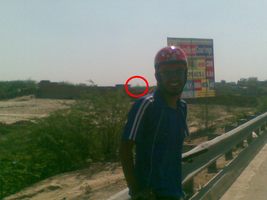 deepak on the highway approaching the chungi (itimad-ud-daula turnoff). you can see the taj (circled) in the grainy distance.
everyone made it to agra!
despite ripu and abhishek having upset stomachs after lunch (it might have been some kind of food poisoning - ripu also threw up), and despite joydeep and sudhansu and deepak and a number of others getting punctures, everyone made it to agra on their pedals!! however, things were extremely tight. himanshu was the first to reach - about 3 PM - nearly an hour ahead of everyone else, and he eventually entered the taj on his own. deepak, prince, sudhansu, santosh and i explored some other sites on the route (itimad-ud-daula and kuchpura), and then joined up with sailesh, mainak, ravikiran and vijay. the main group was expected around 1730 and we started for the taj around 1715.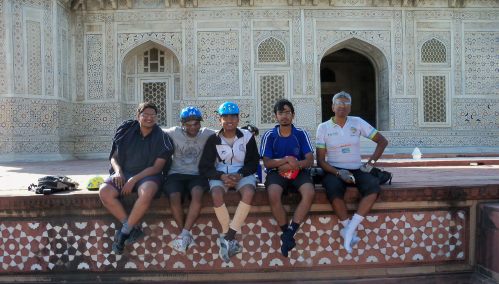 sudhanshu santhosh prince deepak amit at itimad-ud-daula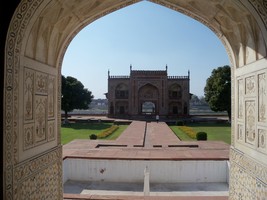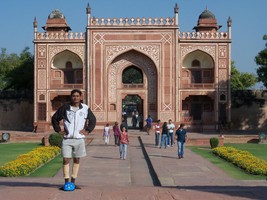 itimad-ud-daula gate through arch. prince.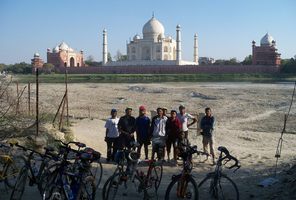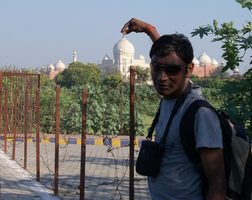 cycles at the taj - ravi sudhansu deepak prince mainak sailesh amit santhosh vijay. santhosh picking up the taj from across the jamuna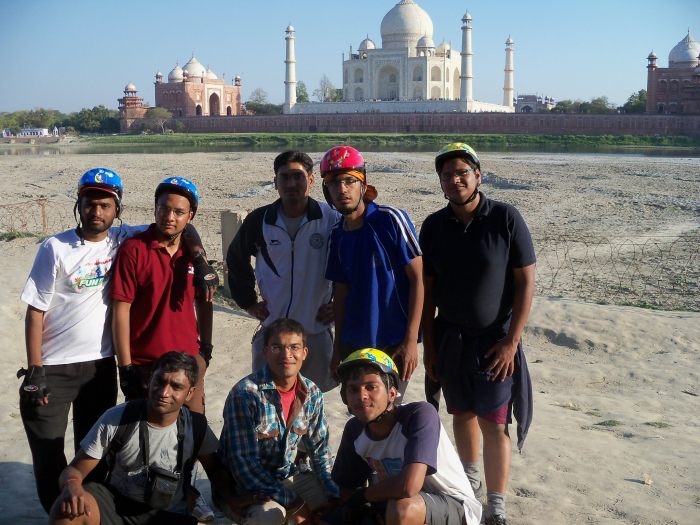 ravi sailesh prince deepak sudhanshu santhosh vijay mainak - taj kachupura
tragedy while entering the taj
at kuchpura, a policeman told us (though he didn't seem quite certain) that admission to the taj would be closed after 1700. so we started rushing to the taj. on the way, both deepak and sudhansu had punctures (deepak on both wheels). fortunately shakeel had come up well ahead of the main group (he had raced furiously for the last 30km), and he was able to fix the flats and they proceeded to the taj. eventually the lead group who went to the taj determined that admission was possible till 1745 provided one had tickets. we had already purchased twenty tickets, so this was good news. as soon as the main group appeared (around 1735), prince and i who were waiting joined them and we all raced off to the taj. however, the car with three people (abhishek and shailendra and shivik) and two bicyclists (lovy and ripu) went to a different gate and couldn't get in touch with us, and in the process they could not get the tickets and could not enter. though lovy and ripu had cycled ahead of us, they couldn't enter, while joydeep and i got in just as the gates were closing.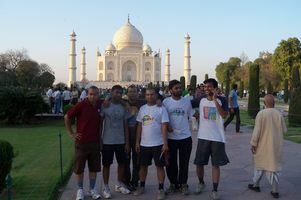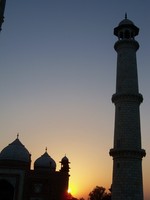 sailesh santhosh samarj gaurav ravikiran mainak. minaret at dusk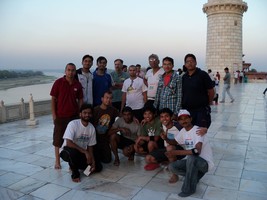 group of 14 at the taj. missing are lovy, ripu, abhishek, shivik, shailendra who were not able to come in because of poor communication at the last minute.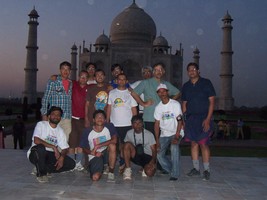 group in front of taj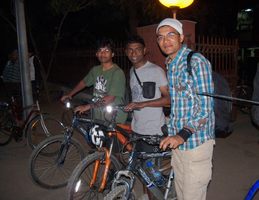 back in hall 1 - himanshu santhosh vijay
Preliminaries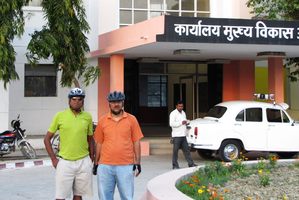 Joydeep Dutta and Amit Mukerjee at the Mati hq of Akbarpur district. The DM, Mayur Maheswari was extremely co-operative, and arranged a very effective police support.
list of pedal yatris and pedals
sudhanshu shukla : BSA ACT 110
prince saurabh bassi : Atlas Hawk
shailesh chouriya : Atlas
gaurav kumar : ??
joydeep dutta : trek 3700
ripu singla : firefox cyclone
amit mukerjee : btwin sports one
shailendra mandloi : ??
mainak chowdhury : firefox la-good
himanshu mohan : firefox cyclone
v santhosh : trek 4300
vijay jawla : firefox cyclone
lovy singhal : bsa mach
deepak chaudhary : schwinn frontier sport
ravikiran : ??
l abhishek (also our medic) : ??
shakeel (maintenance) : motobecane
samarjeet (volunteer) : bsa mach
shivik garg (volunteer) : ??

related:
[lucknow trip 142km] : preparatory tour
logistics page, for equipment, prices, precautions, training, etc.
---
amitabha mukerjee mar 2011 mukerjee [at] gmail