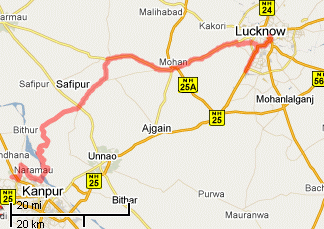 route via ganga barrage, periyal, chakalwansi and mohan.
reaching sac at 6 in the morning i was surprised to find seventeen people ready to do the 100+km ride. some were recent converts like binoy and gaurav, some were old hands like ripu and lovy and abhishek, but mostly it was people going on a long ride for the first time. we thought we'd go via the sugar institute, but due to security problems there, we eventually got moving just before 7. just when we thought the bumpy stretch of the barrage would never end, the road became decent and we were soon at hajipur. after bhat purwa, we were pedalling past the banks of the (dry) ganga. the villages we went through and even this road were under water in the july floods last year, causing great suffering in the region. the roads were pleasant in the morning and we were in periyal, 36km down, before nine. this meant about 18-20kmph, which was excellent going for such a group with so many first-timers. from here the road was broad, with an excellent surface, relatively empty, with beautiful jheels and wide expanses glowing in the early winter light. 13km down, we were sitting at gupta's halwai in chakalwansi, where everyone had a hearty breakfast. by 11am we were at miyanganj, 65km down, where joydeep and i had an omlet while the troops were gathering. at mohaan, the road to malihabad looked appealing for a summer mango trip...
in lucknow by 1pm
we were at the alambagh nahar on the outskirts of lucknow, 102km, shortly after 1 pm. deepak had gone ahead 3km to buddheswar chauraha - but it turned out that we could follow the canal from kakori bypass itself, so he did some extra coming back. santosh and vijay had to go back a bit after they left their glasses at a shop. suhail was doing a wonderful job at the back, and lovy, deepak, prince and some others were managing the front. after a spot of rest at kakori bypass, we reached our planned lunch site at sahara gunj mall around 3. mcdonalds and tunde kabab were the main choices, and we started back at 5 pm. near charbagh, we considered the possibility of a bus to get us back - there were a/c buses, but it would come to about 180 per head including bicycles; also the group would be split up into two buses, and we would have a longer ride after reaching kanpur. so we crossed transport nagar where the trucks start from. before long lovy and shakeel had hailed an empty truck going to kanpur - it would be rs 25 including bicycles. we quickly loaded our cycles and were off. we left lucknow at 18:20, with the night sky visible through the open roof of the truck. soon, one could hear
popular songs
being belted out of the back, with gaurav and deepak as the lead singers. it was exactly 9pm when we unloaded the cycles at panki bypass and rode the 12km or so into iitk - a total of 142km of cycling for the day.
Images
at periyar: himanshu abhishek lovy am anish. tea break chakalwansi: anish am vijayK deepak ripu santhosh shaqeel abhishek suhail himanshu
anish santhosh: break at brick bhatti. fATak at maharajgunj
anish santhosh riding
lucknow welcome 30km to go. abhishek anish at bridge near maharajgunj
anish amit lucknow. jd gaurav
sahara mall: mainak himanshu. himanshu vijayK
prince, amit: in truck
returning by truck: binoy himanshu vijay gaurav santhosh. amit deepak.
riders
amit mukerjee
anish rao
binoy
binoy kr
deepak choudhary
gaurav kumar
himanshu mohan
joydeep dutta
l abhishek
lovy singhal
m shakeel
mainak chaudhury
prince b
ripu singla
sanjoy
santosh vangapelli
suhail rizvi
vijay kumar
bicycle and other problems
shakeel had accompanied us to lucknow and his presence was a great saviour. half an hour into the trip, i had a puncture near singhpur. santosh had a puncture on a flyover in lucknow. both were quickly fixed. joydeep's bike stand decided to jam against the tire so he rode quite a few km with high resistance. binoy's cycle had some noise and rubbing. abhishek had seat height problems. anish's bike had a hub jammed - shakeel attended it in lucknow; though it improved, it was still rough. vijay took over and brought it back for the last 30 odd km.
moral of the story
bike repair

brakes: should stop well within a bike length at normal speed
tube: if tube is > 6 mo old, or has had even one puncture, just replace it.
tire: check tires for ruptures and other weak spots.
wheel: look at the wobble on the rim. if more than 1-2 mm, get it trued.
hubs: are wheels sticky? should spin so long that you get bored.
seat height: raise the seat so the leg nearly straightens out at the bottom of the stroke.
noise: sometimes you may need to get rid of the chainguard.
chain slip:does the chain slip often? check the wear on the chain. if not worn, adjust rear wheel.

water

at least a bottle

sunglasses

for the dust

stretch

stretch before you start, and stretch at breaks.

energy

eat well the night before
---
page maintained by amit mukerjee

for the bumpy trail bicycling techies

mukerjee [at] gmail

march 2 being shivratri holiday, some of us (mainly, joydeep, lovy, suhail and i) thought it would be a great day to do a 100km+ trip, especially since it would be a great training ride before the 2-day agra-trip. one lazy morning about a month back, i had crossed the ganga at bithoor (two streams, two boat crossings, 1.5 hours) and discovered the excellent route that takes one from periyal to chakalwansi. last week joydeep and i had explored this route via the pontoon bridge at bithoor, returning via the ganga barrage. despite the pontoon bridge, the bithoor route has a lot of unrideable sandy stretches so for today's route joydeep suggested we go via the ganga barrage (which also has a 3km stretch of broken brick road)...