lucknow residency tour. via ganga barrage, periyal, chakalwansi, mohaan

joydeep, ravikiran and dhrupal turning onto the ganga barrage
the idea was to ride into lucknow, visit some historical sites, and then head back by bus. though the plan was to start at 0500, it became 0545 by the time we got going... there were six of us - varun rajan, ravikiran gunale, dhrupal shah, shaqeel, joydeep dutta and amit mukerjee. reached ganga barrage after 12km, and then 4 km of seriously bumpy stone-chip road, then a km of dirt road, after which it's tarmac all the way. the sun was coming up on the ride through village roads to periyal (after 28km; it is 17km via bithoor). from here there is a superb world bank highway connecting to the which has been built in advance of the bithoor highway bridge. since that bridge has been languishing for the last god knows how many years, this broad, smooth highway is completely empty of traffic and a royal ride for us bicyclists.





dawn was breaking
as we crossed
the ganga


dirt trail right after ganga barrage: shaqeel am varun dhrupal ravi jd. sun rising behind varun near panni village, shankarpur... (click on any image to enlarge)
bulbul sunrise near basdhana.
pariyal: dhrupal varun ravi jd shaqeel. varun rode his bike into the bushes at one point, emerging with brambles...
watering break at pariyar: amit dhrupal varun shaqeel. ravi gunale and shaqeel: eucalyptus road near pawa


threshing the freshly harvested rice.

beyond the tea-break at chakalwansi, we came across these villagers threshing rice by the roadside. a knowledgeable passerby, mr. yadav, said that they may have about 8-10 quintals of rice, which would sell for around rs 900 per quintal (1 quintal = 100kg).
sugarcane break: varun dhrupal jd amit shaqeel ravi. some sarus cranes flew by in formation as we were munching sugarcane.
traditional animal power in farming... agriculture in india uses a lot of bullocks and even buffaloes.
a farmer drives his bullock team near pawa, in unnao district, uttar pradesh.
ravi jd dhrupal varun am: maharajgunj fATak. gaushala temple at maharajgunj. amit on a tower of one of the bridges built by a local raja.
lucknow

as we were entering lucknow, we got caught in a massive jam at a railway crossing in lucknow. after some time, we followed the rest of the two-wheelers and went under the barriers. there we were waiting, right by the tracks, when a couple of policemen cleared the track and the ganga-sutlej express came ripping down at 110kmph...
hungry and worn-out
but victorious
we rolled into
the residency after noon

joydeep has seen the residency too many times, and sat it out while we clambered all over the ruins...

banquet hall rear. doorways: banquet hall brigade mess: shaqeel

shaqeel dhrupal: cannon in front of residency museum. residency ruins at rear.

shaqeel dhrupal. amit dhrupal: residency rear. shaqeel.
birds
hoopoe on eucalyptus. hoopoe by the roadside
a little egret foraging in the shallows; seen on the roads before pariyar. a pond heron waiting patiently for his meal to show up.
two bulbuls striking up a morning raga...
spotted munia on tall grass - picking up reeds for a nest?
route
the route followed was the same as for our march trip ...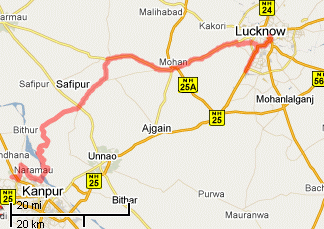 route via ganga barrage, periyal, chakalwansi miyaganj and mohan; click for detailed scalable map .

for upcoming ride info, join our [facebook forum]

---
amit mukerjee Nov 16 2011, for the bumpy trail bicyclists. mukerjee [at] gmail