avian ambitions
Thought I would go practice a bit of squash today, but after I put my shoes and racket into my backpack, I also picked up the camera, thinking it was early, and I could check out the oxidation tanks next to hall 8 before heading for the court.
Bad mistake.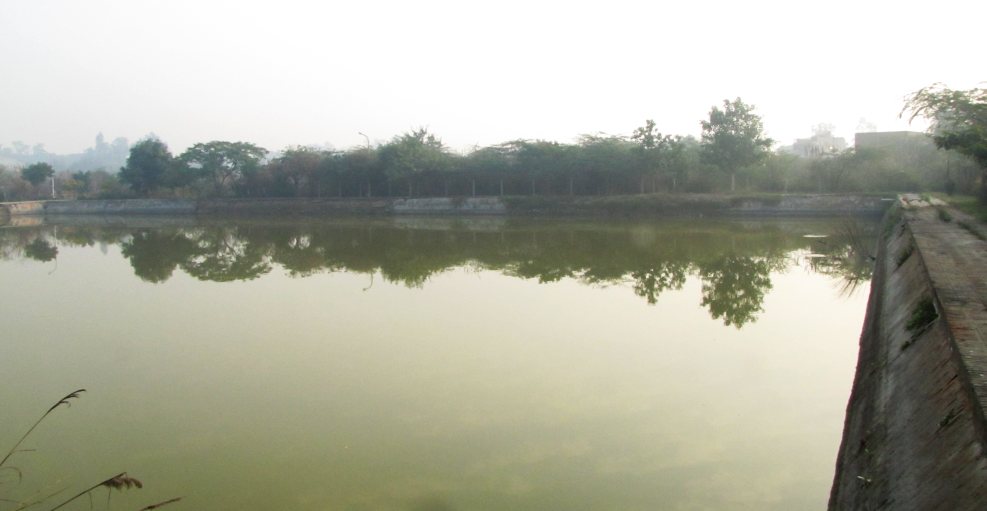 The oxidation tanks are a great spot to find waterbirds. It looks quite nice too, especially in the morning mist.
En route, near the RA hostels, I saw the chap on the left sitting quietly on a roadside tree: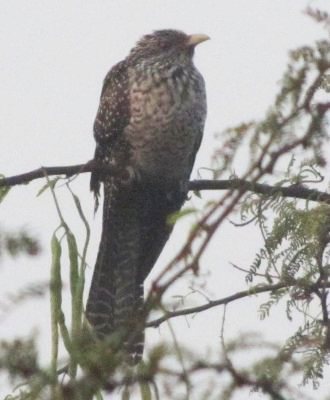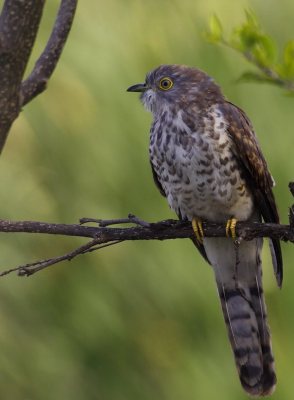 Most probably a

Common Hawk Cuckoo

, with the yellow-beak hinting at a juvenile. The image on the right, by

nidhingpoothully

from wikimedia, is for reference.

This was the first time I was seeing this bird. It looked a bit like a falcon, with a less menacing beak. Later, I checked him (?her) out, and figured out that it's probably the Common Hawk Cuckoo, which incorporates features of a hawk though the bird is a cuckoo. Today this portmanteau name keeps annoying people who make indexes in the birding books.

On entering the reservoir area, I didn't notice these pond herons on the walls going down to the water. They quickly flew to a boundary wall.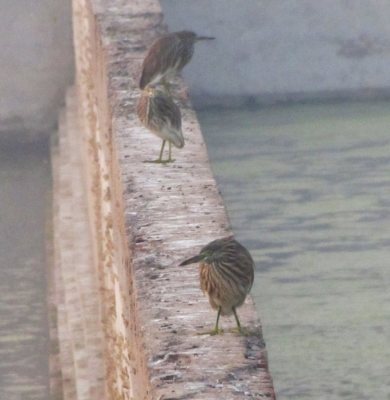 &nbsp Three pond herons along the wall...
After some time, they went back to business.
They were very comfortable on the steeply angled walls, staring at the water intently and occasionally picking up a morsel. In fact, if I were a fish, the intensity of that beady gaze would be enough to do me in!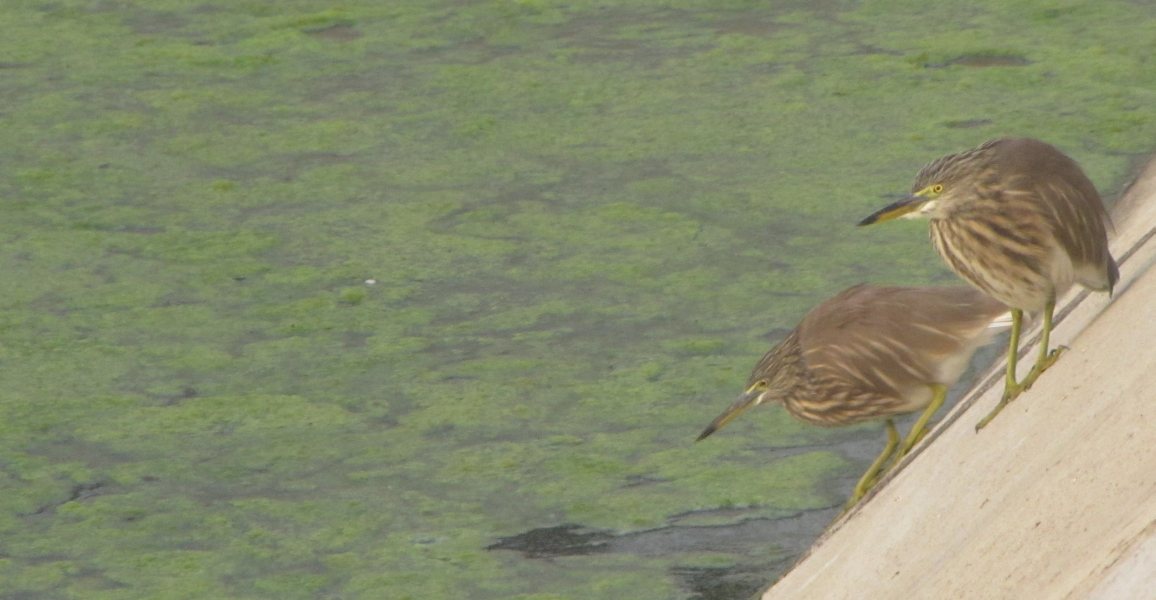 It is interesting how across species, fishermen always get free advice!
Meanwhile I saw what I think may be a pied bushchat, hovering in and out at the border of the tall grass beyond the fence. This was my first sighting of this otherwise not too uncommon species.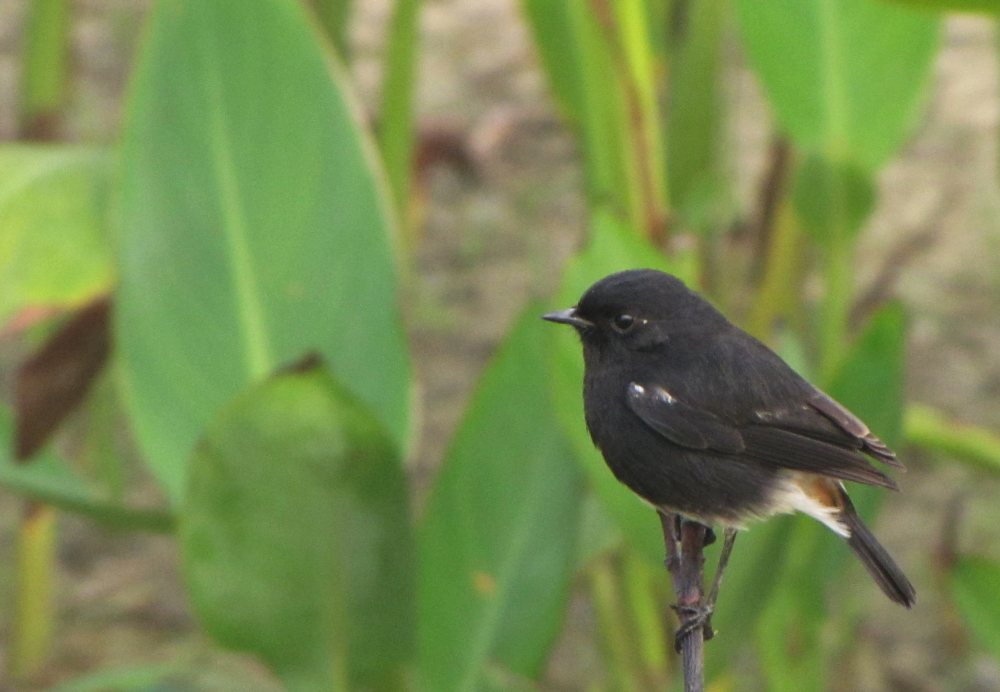 Pied bushchat male, perhaps
Then there was this other bird, similar in shape and behaviour, but more soberly coloured. I realized it was probably the female bushchat.
There was also this Indian Robin hopping around on the ground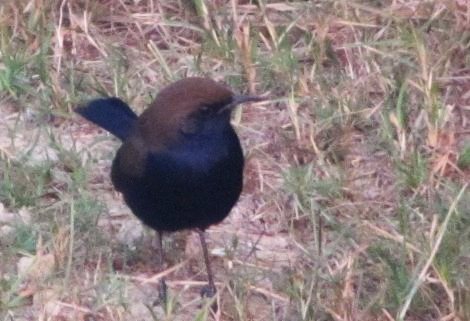 Indian robin - a common bird on our lawns.

See more about the Indian robin at IITK.

I also noticed what looked like a Lesser Whitethroat in the grass. I had seen this bird a couple of years back, and Ramit Singal had helped me ID it, so this was also a good sighting for me.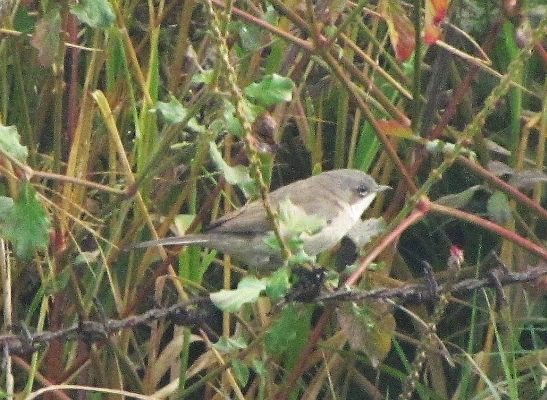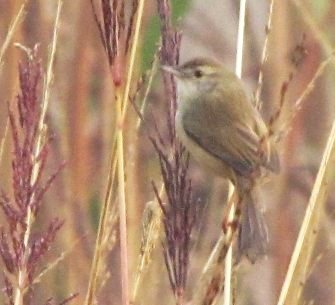 Most probably the lesser whitethroat
And then this beautiful white-browed wagtail flew down to the edge of the water.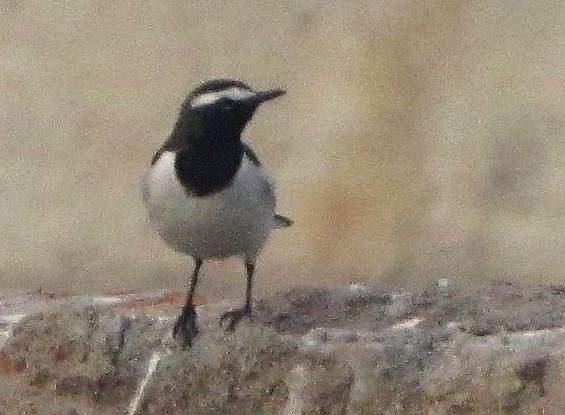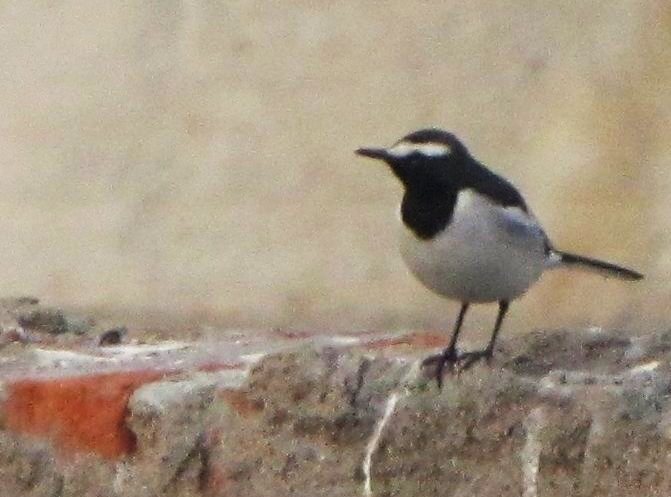 White-browed wagtail
A bunch of collared doves were sunning themselves on a nearby tree: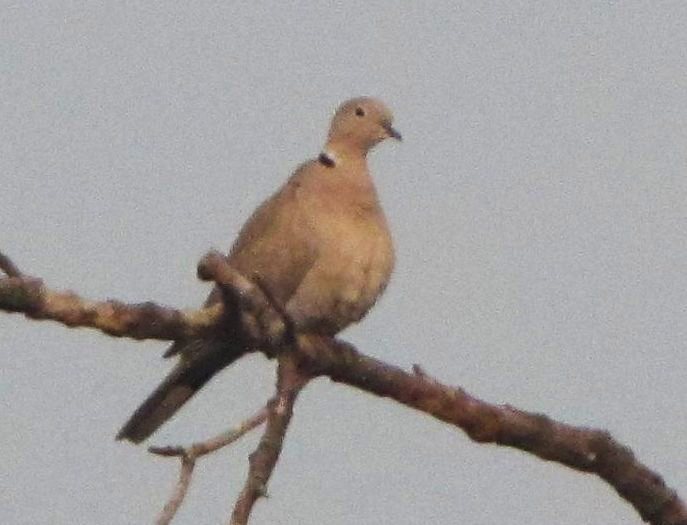 Collared dove

As I turned a corner, I found this Cattle egret sitting quietly near the IIT wall bordering the Siuli Road: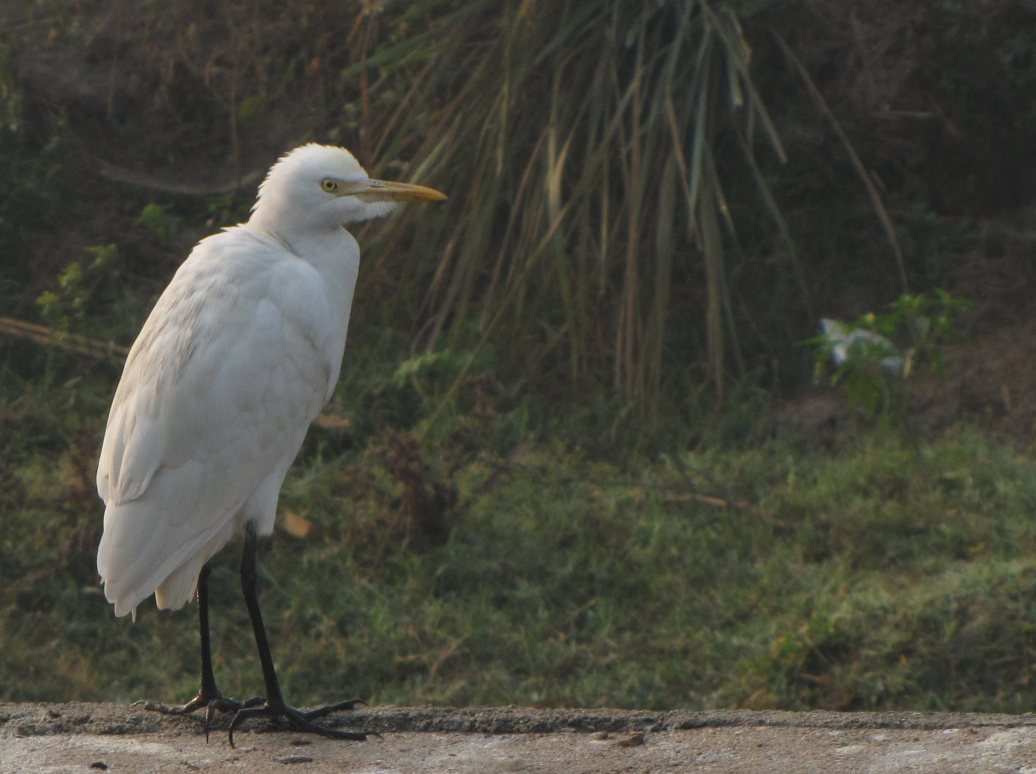 Cattle egret, pondering the insanity that afflicts camera-wielding homo sapiens
At some point, three Little Grebes came in to the western tank. They were busily dabbling for goodies, remaining underwater for minutes and emerging quite far away.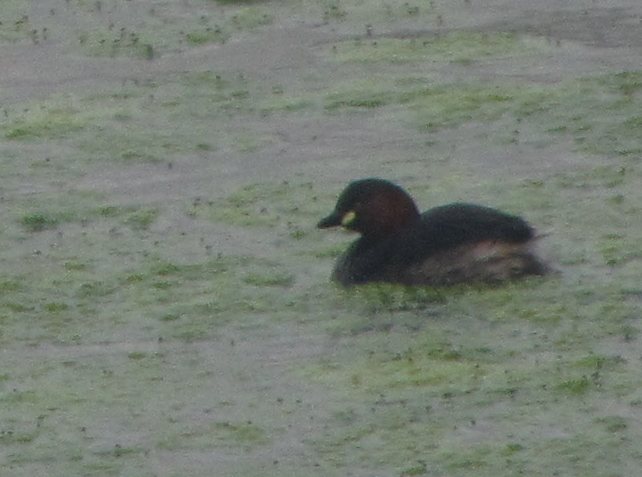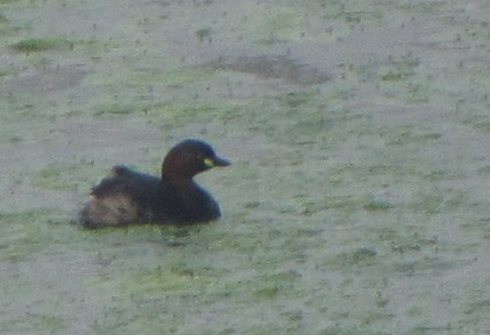 Little grebes
A bit later, these two beautiful Black-winged Stilts flew in from somewhere and started foraging in the central tank. They would walk tentatively on their long legs - I realized the water was only about six inches deep - occasionally dipping in their elongated beaks and fetching up what looked like a weed but may have been a tadpole...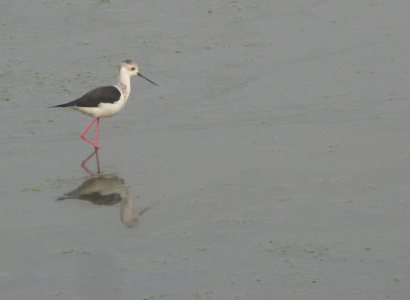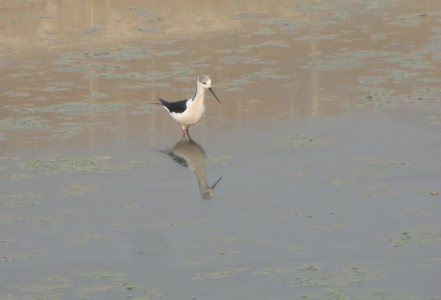 Black-winged stilt : the one with the stripe at the back of the neck may be the male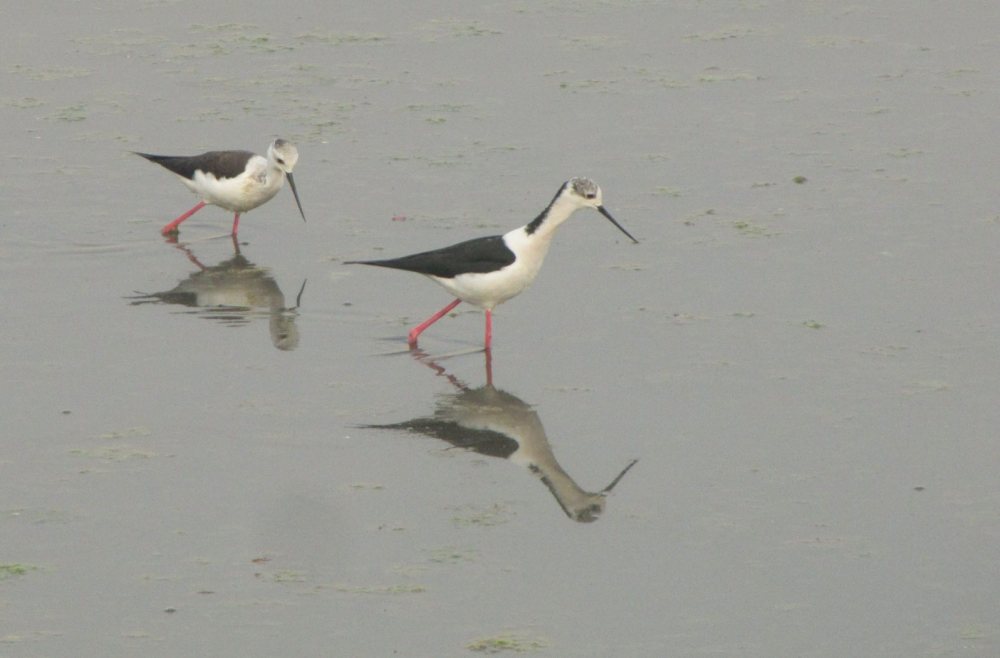 Black-winged stilts foraging together in the middle tank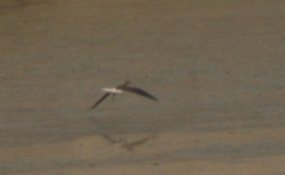 A smaller waterbird, perhaps a sandpiper flew around in circles very close to the water
And then a somewhat different black-and-white wagtail - the White wagtail - showed up. This is a winter visitor from Siberia or China; it's a complex species with many "races" and I can't be sure whether this one is a dukhunensis or leucopsis or what.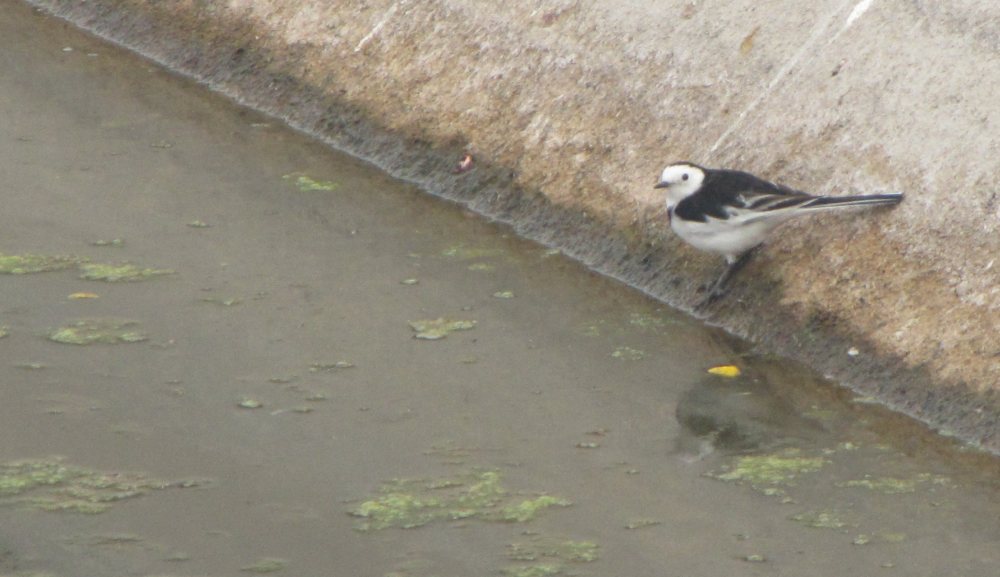 White wagtail
Finally, I ran into this flock of Red-wattled Lapwings, relaxing at the border of the pond.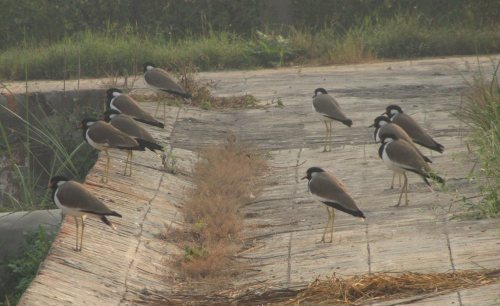 Flock of Red-wattled lapwings at a corner of the tank
Finally, to set my mood right, there was this lone lapwing, contemplating the mysteries of life amid the reflections of the morning ...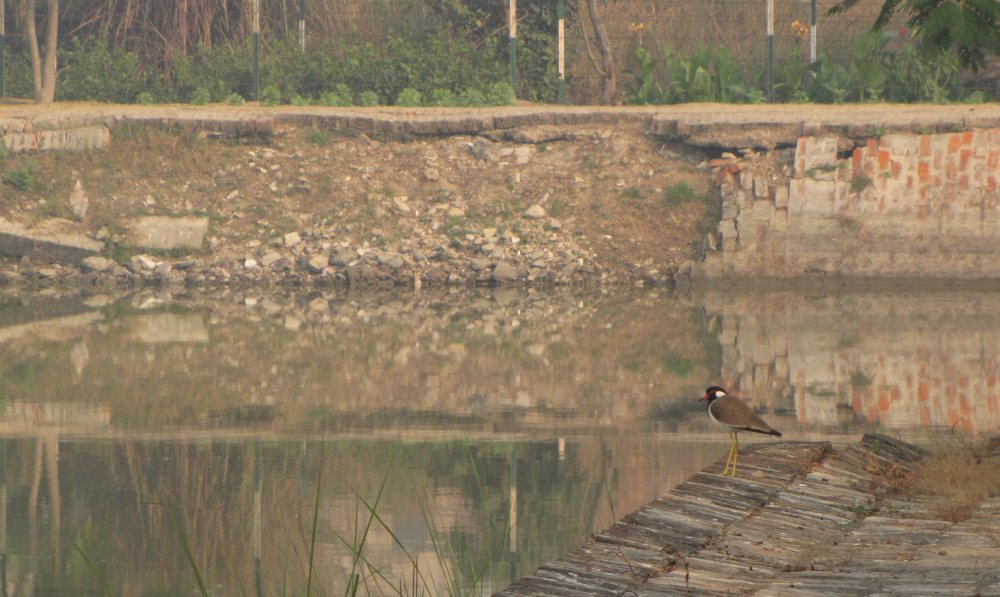 Surya-pranaam
It was almost nine AM, and other tasks beckoned. I never got to the squash courts. But I did sight 22 species between 7:30 and 9 AM, including two that were new for me!
So, on the whole, a morning well wasted!
list of sighted birds (0730 to 0900)
Laughing Dove
Common Hawk Cuckoo
Greater Coucal
Indian Robin
Pied Bushchat
Indian Pond Heron
White-browed Wagtail
White Wagtail
Lesser Whitethroat
Eurasian Collared Dove
Marsh Sandpiper
Black Winged Stilt
Red-Wattled Lapwing
Black Kite
Rock Pigeon
Little Grebe
Cattle Egret
Indian Peafowl
House Crow
Common Myna
Red Vented Bulbul
Common Babbler