Bumpy Trail Bicyclists : Maitha-Shiuli : 63km Aug 1 2010
nine of us started out on this ride: ripu singla and lavi singhal from 5th yr Math, manu and suhail from bsbe phd, ben - a visitor from arizona, and brajesh kushwaha (4th yr ee). ripu, suhail, brajesh and lavi had gone on a number of rides earlier. joydeep, saumyen and i were the senior contingent. joydeep had organized a car, which was carrying refreshments.

green start: suhail, ben, and manu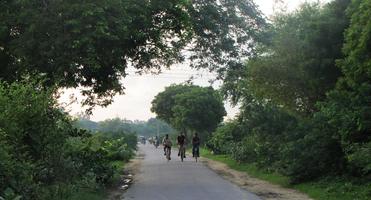 with the announced assembly time of 0530 at the SAC, we managed to leave campus by 0550. near tikra, some seat adjustments on manu and ben's bikes (failed on both). saumyen took a tumble at baghpur, not seeing a bump while scanning for teashops that may be open. we finally stopped for tea at bairi, where the peloton enjoyed the cheese sandwiches brought by joydeep. the chain on manu's bike kept on slipping, and he had to be transported to bairi. here, the rear wheel was moved back at a shop - same with brajesh's bike. continuing on to the maitha canal, where we made a right for the 8km run along the ramganga canal.

joke shared at bairi
ripu, lavi, saumyen, amit, ben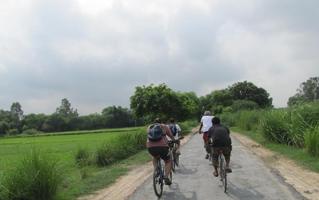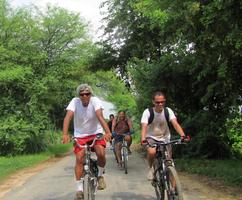 from the back and then from the front, you can see amit, lavi, joydeep and saumyen, heading towards tikra.
here's a group photo at the pandu bridge just before tikra. the picture was taken by a passerby in a lungi who was headed for the fields for his morning work. by this time, manu, who was riding doc abhishek's bicycle, had lost one pedal - it broke and had fallen off. so he was making do with the stem.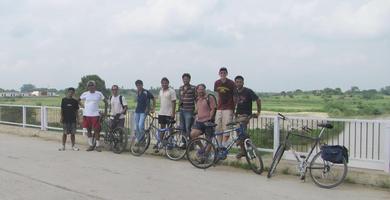 bridge on the pandu river. brajesh, amit, saumyen, ripu, suhail, manu, joydeep, ben, and lavi.
birds
and now for the mandatory birds section. nothing exceptional.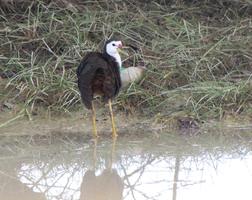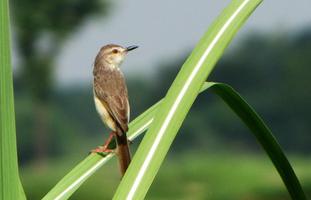 a waterhen preening at baghpur, and what looks like a prinia in tall grass.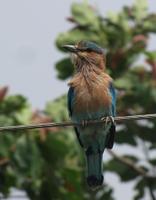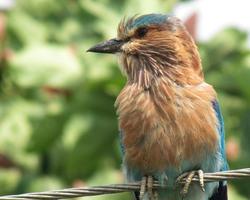 one of the many indian rollers.
---
amit mukerjee Sat Aug 7 00:54:21 IST 2010