Bicycle Birding: Pachor-Chaubepur April 17, 2010
in our explorations of the villages around, we had found two roads to chaubepur - the canal route (17km to Pratappur pool + 6km to Chaubepur), or directly along the GT road (16km). for some time, i had been thinking that there must be a diagonal from the canal road to chaubepur. the
satellite maps
seemed to be hinting at a road from around pachor village to chaubepur, which would make the distance about 18km. so it was time to put theory to test. our maps of the rural areas are pathetic. google maps is the most accessible, but it shows only the major routes and what seems like an arbitrary assortment of smaller roads. anyhow, there are many non-motorable bicycle paths - e.g. the entire canal path, including the tarred road, is missing on google maps. also, manish tripathi had called me yesterday to reiterate his invitation to come taste some fresh cow's milk. so come 6am this saturday, atul and i set off beyond the known horizons... as it turned out, we ran into a bunch of students, and gyan, akshay and manu decided to join us for part of the ride. since it was to be a short run of about 35km, we planned to take it easy and look at the birds etc.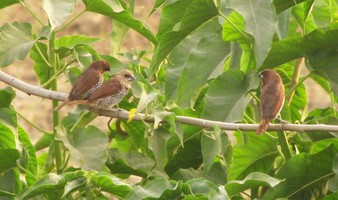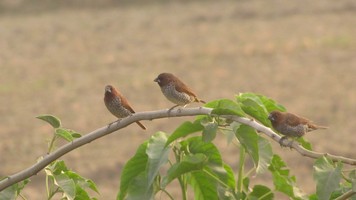 Spotted munias on the vines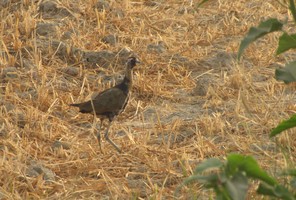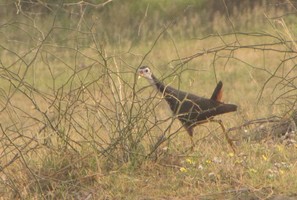 immature bronze-winged jacana. a waterhen making its getaway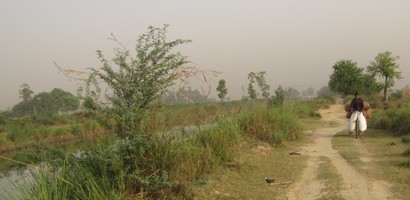 a heavily laden bicycle on the mud tracks - note the waterhen scurrying in front


the canal looked lovely in the morning light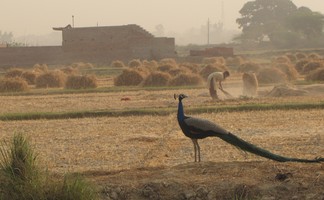 a peacock by the canal. at the back, a girl sweeps a freshly-threshed wheat field. this year, the yield from wheat is nearly half of the norm, but no one knows why.
Raigopalpur: udder-fresh milk
we reached manish tripathi's rice mill easily enough. as always, they were extremely hospitable. we found a buffalo and a cow tied up by the canal path, with their calves on hand. we were offered a choice - and finally ended up having the cow's milk. manish's brother atul milked the cow - he offered that we should try the milking and though a part of me wanted to, we declined. i had three glasses i think, and atul, despite protests, had two. it tasted wonderful!!
jets of milk:
manish's brother atul milks the cow.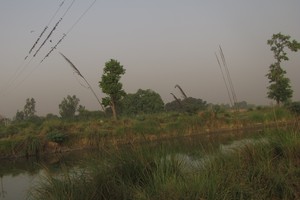 swallows bunched up along the wire across the canal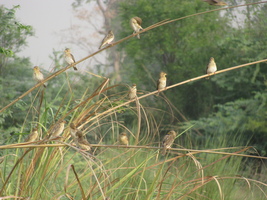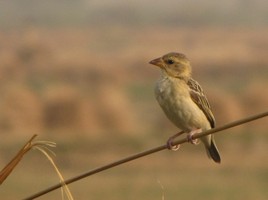 indian silverbill flock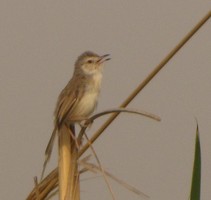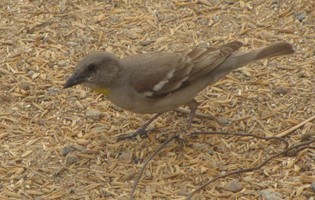 ashy prinia (ID unsure, could be jungle prinia), and a yellow-throated sparrow (chestnut-shouldered petronia)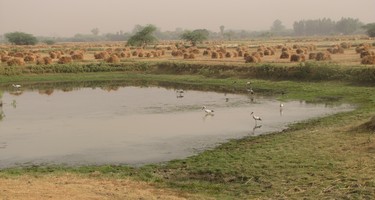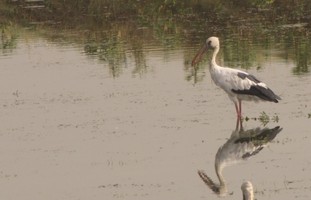 this pond, on the tatarpur-pachor segment, always has a rich variety of birds. today we saw openbills, a large egret, bronze-winged jacana, lapwings...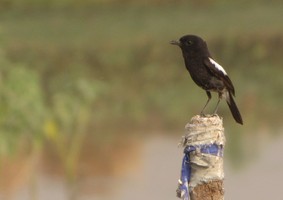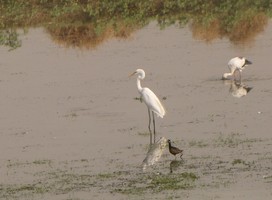 also, pied bushchats are hanging around...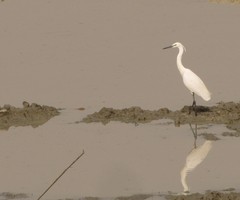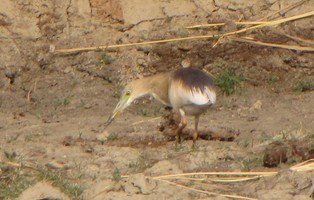 little egret in breeding plumage (the ornamental feathers will disappear in the winter). a pond heron gets an insect snack
from chaubepur, we took the direct route back, along gt road. while there was a good bit of traffic by this time (around 9 AM), cycling on gt road is actually safer than many people imagine, since the roads are quite wide and the surface is excellent. we missed the rahi guest house before mandhana, and despite several attempts, we could find no decent lassi or drink stop on the road...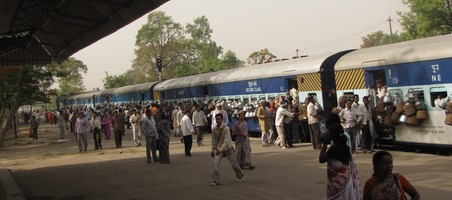 on the way back a train passed us, its windows bulging with milk canisters headed to kanpur from the hinterland. i caught up with it at mandhana station.
the characters
while hanging around at manish tripathi's, we saw a bunch of mba kids going out for a cycle run. since the
rural bicycle tour
last month, we often find quite a few students on the canal. it turned out that some of these kids had gone on the 65km tour, and were now out to take their friends to the canal weir. three of them - gyan, akshay, and manu - joined us for the rest of the pachor-chaubepur-mandhana-iitk run.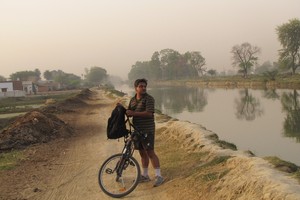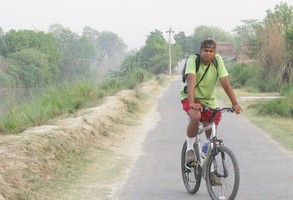 atul at pancham purwa village. amit on the road.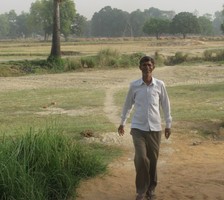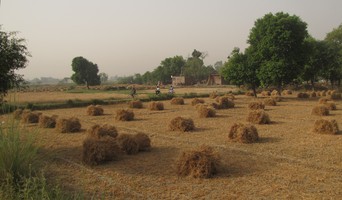 manish tripathi's forever smiling dad... gyan, akshay and manu on the path near raigopalpur.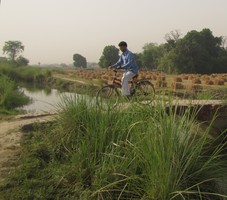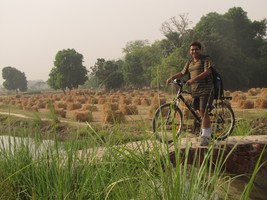 akshay and atul pose on a bridge over a canal distributory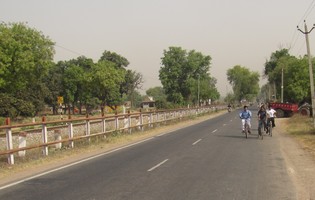 akshay manu and gyan on gt road. atul at the back.
the route can be seen at
www.gmap-pedometer.com/?r=3692011
.
---
amit mukerjee May 2 2010. mukerjee [at] gmail